An optician in Connecticut is responsible for a variety of duties related to dispensing and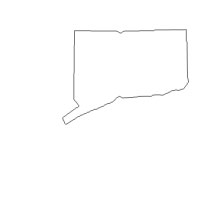 fitting spectacle lenses, frames, and contact lenses. The exact duties vary based on their specific job role and the employer that they work for, but many handle customer service, administrative duties, cutting and fitting frames and lenses in the lab, and educating patients on their vision care options. Opticians often assist with selecting frames and lenses, fitting and preparing lenses and glasses with frames, and they do a lot of work with computers and machines.
An optician usually starts as an assistant at an eye doctor's office or vision store. They may begin by assisting with reception and other administrative duties as they learn on the job. Many employers have apprenticeship programs specifically for this. Once someone completes the training, they can take exams and become a licensed dispensing optician, or LDO. Exams are available from the American Board of Optometry, and have three levels to choose from: beginning, advanced, and master. The National Contact Lens Examiners, or NCLE, also have an exam that must be passed by opticians that want to dispense and fit contact lenses, as well.
Sponsored Search
Featured Programs:

In our online Optician Training courses, you'll develop the foundational knowledge and hands-on skills to work as an optician in an optometrist office, retail optical business, or eye clinic. You'll cover fundamental topics to help you assist patients in selecting and fitting eye wear, and eye care in general. You'll also prepare to sit for industry certification exams
Selected Campus Locations:
Selected Programs:

Optician Education Requirements in Connecticut
Connecticut is one of the few states that has state laws regarding education and licensing for opticians. These guidelines have been set forth by the state Department of Health, and require people to obtain an associate's degree in Ophthalmic Dispensing (from a program approved specifically by the Connecticut Board of Examiners, or to have completed four years or 8,000 hours of training in an apprentice role.
A degree in Ophthalmic Design and Dispensing is available from many local and national schools. There are even online programs available for students who don't want to attend a traditional campus program. Online learning often makes it easier to train in an apprentice role in tandem, saving you time on preparing for your career. Once education has been obtained, Connecticut opticians must take and pass the Connecticut State Board practical exam and the Jurisprudence Exam before moving on to take the exams available from the ABO and NCLE.
Optician School and Certification Requirements in Connecticut
Every state has different requirements for optician certification. Sometimes, it can even come down to the requirements of a specific employer. By taking and passing all of the available certification exams, you'll never have to worry about whether or not you have enough education and training. Certification from the Connecticut State Department of Health requires:
Associate's degree or equivalent work experience (4 years or 8,000 hours)
Verification of exam completion (with passing score)
Verification of the apprenticeship
Verification of licensure (if already licensed)
Exam fees from the ABO and NCLE will vary per exam. Connecticut requires around a $200 fee for filing or license renewals in addition to exam costs.
Licensed Optician Requirements
An optician in Connecticut has strict licensing requirements that they must follow. First, they must prove that they are eligible based on the criteria above (degree or equivalent training, taking and passing of three exams). From there, the state requires applicants to submit a notarized application that includes a photograph to the state board.
Along with this application, verification of the internship and/or education must be included. You will also need to include proven completion of all examinations. Those who were previously licensed will need to provide verification of previous licensure and registration with any organization or authority they have worked with in the past. The state also has requirements for continuing education and training in order to maintain an optician's license.
Optician Salary in Connecticut
In Connecticut, opticians earn 15% more than the national average, with an annual salaries ranging from $20,000 to $63,000. The average optician in Connecticut earns $39,000 per year for their skills. The pay scale varies moderately, depending on factors such as:
Job title
Location
Job duties
Management roles
Sales vs. technician roles
Most opticians make between $16 and $20 per hour in this state with minimal-to-moderate experience. Those who have more experience, training, or responsibilities on the job can earn as much as $30 an hour or more. The growth potential for this career is not available, but the national average of 2% over the next 10 years is a fair estimate.
Optician School and Continuing Education
Becoming an optician means more than passing one test. You have to keep studying and learning about your industry as it changes over time. Everything is constantly evolving and if you never seek continuing education, you are never going to be able to stay current within your industry. The Connecticut Opticians Association has plenty of educational tools and resources to help keep your skills sharp.
The Department of Public Health outlines the requirements for continuing education, which only mandates 7 hours of CE courses or training during the year leading up to the annual renewal process. These training courses must be approved by the ABO and NCLE, as well as the Connecticut Board of Examiners for Opticians. It must also be a face-to-face interaction in a classroom setting, where attendance and performance is monitored and recorded. A certificate of completion will be given at the end, which can be used to issue or renew a license with the state of Connecticut. You can view the entire list of requirements based on the law in their Continuing Education for Opticians in Connecticut section.
Optician Resources
http://www.indeed.com/salary?q1=Optician&l1=connecticut
http://www.bls.gov/oes/current/oes292081.htm
http://www.ct.gov/dph/cwp/view.asp?a=3121&q=427584