Delaware opticians are trained to help select, design, fit, measure, and adapt frames and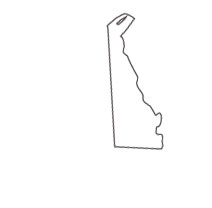 lenses for clients based on the prescription or specifications given. They handle customer service in helping people shop for frames and select the best fit, as well as education on lenses and contacts, including which brands are best and the various features of each. The goal of the optician is to ensure that people make the best decision about their eyewear for their eye health, vision, and style needs.
Opticians typically start in an apprentice role and take on-the-job training as a large part of their learning experience. There are also optician schools and programs out there that can help provide a formal education for those who seek it, or for those in states where it is required. Those who want to become an optician will generally take exams offered by the American Board of Optometry as well as the National Contact Lens Examiners, allowing them to earn certification in their field. People in this field will have a diverse set of skills, as they handle everything from technology and mathematics to customer service and sales.
Sponsored Listings
Featured Programs:

In our online Optician Training courses, you'll develop the foundational knowledge and hands-on skills to work as an optician in an optometrist office, retail optical business, or eye clinic. You'll cover fundamental topics to help you assist patients in selecting and fitting eye wear, and eye care in general. You'll also prepare to sit for industry certification exams
Selected Campus Locations:
Selected Programs:

Optician Education Requirements
Becoming an optician in Delaware is not difficult, but it does take time. Like a lot of states, Delaware has no state laws that govern the licensing and certification of opticians. That means that it is up to each optical employer to determine their own requirements for hiring new opticians and apprentices. Commonly, opticians learn on the job while studying the field in their free time. Some, of course, choose to pursue formal education. There may also be opticians in Delaware who are required to obtain a formal education if they work for a certain employer.
Recent studies have shown that as many as 75% of employers prefer their incoming opticians to have some type of formal education in addition to the job training. Those who are already licensed in the field will generally earn higher salaries than those who enter the role with no experience and become an apprentice. There are plenty of schools and programs available for optician studies, including online and self-paced programs that allow you to learn at your own speed. There are also a number of state and national conventions throughout the year, offering educational resources in a non-traditional setting.
Training will generally cover mathematics related to measuring and fitting frames and lenses, use of technology to cut frames and lenses, and some biology and health-related topics to give opticians a better awareness of how their job actually helps people. The more an optician knows, the more they can do in their role, which means better income and career potential.
Optician School and Certification Requirements in Delaware
Some employers will require certification for Delaware opticians, but it is a good idea to pursue it even if it is not a job requirement. The certification process involves the exams mentioned above, which cover all of the relevant areas of contact and spectacle lenses, including making, filling, and dispensing lenses, glasses, and contacts. There does not appear to be a state board specifically dedicated to opticians in Delaware, but there may be some useful information on the Delaware chapter of the American Optometric Association website.
Most apprenticeships that are available culminate in passing the certification exams offered by the ABO and NCLE. First, you must study all of the optician areas of practice, including creation and dispensing of lenses and frames, making and adjusting frames, and other related topics. Every program, school, and employer will have similar training and education available, but specific courses vary from one to the next. After (or while) getting educated, you will also need some hands-on experience, which is usually done in an assistant or optician apprentice role. This helps to master the practical skills and technical duties of the role.
Once students have trained and studied, they can take the necessary exams from the American Board of Optometry and the NCLE. There are exams available at the beginner, advanced, and master level. Each exam costs $225. In many cases, your employer might pay for this since it is to their benefit for you to be certified. Exams can be taken twice a year, and it is all done on a computer. Certification will ensure that opticians are competent in:
Prescription interpretation and analysis
Fitting and dispensing full-pair glasses, as well as individual lenses, and frames
Equipment use and maintenance
Patient education
Contact lens evaluation and fitting
Dispensing of contact lenses
Administrative duties
Licensed Optician Requirements
Opticians in Delaware are not held to any specific state licensing requirements, as mentioned previously. This allows employers to designate whether their employees need to be licensed and how the licensing process will work (as far as training and education). Other employers might offer or suggest it as a means to grow your career. There are even some Delaware optical employers that have no requirements or rules regarding certification and licensing. Still, the income potential is always better when you get certified.
The Delaware Optometric Association will have resources available for those who want to learn more about becoming an optician or to study the field itself. Along with the ABO, they can provide valuable insight and information about licensing, including the value it can add to your career.
Optician Salary in Delaware
Delaware optician salaries and hourly wages are slightly lower than the national average, but this also varies depending on the exact job title, role, and location. On average, an optician in Delaware can expect to make $16,000 to $30,000 per year. Those who are new to the field will typically earn $12 to $14 per hour, while those with more experience can earn up to $20 an hour, or more.
Delaware has seen steady growth in the demand for opticians in the past decade, which is pretty common across the country. Those who work in metropolitan areas or areas with a higher need will earn more, while those in rural areas can expect to earn less, on average. Optician careers are expected to grow about 2-3% over the next 10 years, offering plenty of opportunity for future career prospects.
Optician School and Continuing Education
The optical industry is always changing and evolving, and so will the opticians and others within it. You will need to ensure that you maintain your education and training throughout your career. You can do this in many ways, including:
Online classes and seminars
Optician-related courses and schools
Work-study programs
Attending conferences and optical industry events
Make sure that you keep your education current. If you work for an employer with strict guidelines regarding continuing education, know those guidelines and follow them to the letter. There are so many free and cheap resources to help you continue to grow your knowledge of the optical field, giving you a better chance at success in your career as an optician in Delaware.
Optician Resources
http://www.bls.gov/oes/current/oes292081.htm