Selecting a career will have a huge impact on the future, which is why it is important to join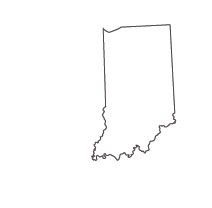 a profession that is on the rise. Job growth continues to increase every year for dispensing opticians, providing a prime opportunity to build a stable life and long-term career. There is a little bit of everything involved in the job duties of an optician, which plays an integral role in the eye care industry.
Optician Education Requirements and Job Overview in Indiana
Indiana Opticians are often the first and last people that customers encounter when it comes to their vision care. Dispensing opticians provide a wealth of services, which starts out with initial customer contact. Opticians direct customers on the proper course of action to take and that is aided by being able to read their prescriptions. Opticians in Indiana serve as a kind of liaison between customer and the facility's ophthalmologist or optometrist.
Sponsored Listings
Featured Programs:

In our online Optician Training courses, you'll develop the foundational knowledge and hands-on skills to work as an optician in an optometrist office, retail optical business, or eye clinic. You'll cover fundamental topics to help you assist patients in selecting and fitting eye wear, and eye care in general. You'll also prepare to sit for industry certification exams
Selected Campus Locations:
Selected Programs:

Opticians are adept in the anatomy of the eye and can also recognize eye diseases and conditions. There is a technical knowledge of the job as well as a hands-on approach. Indiana opticians fit customers with frames and contact lenses while also making necessary adjustments. They are considered very good with their hands as evidenced by the meticulous nature that comes with adjusting frames. Measurements are also taken by Indiana opticians to ensure that every frame accommodates each customer in terms of style, comfort and size.
Opticians in Indiana have the choice of working in different kinds of settings. There are many vision care stores with a high volume of customers and smaller outlets that deal with less customers on a daily basis. Physicians also hire opticians in their private practices in what is more of a medical-related setting. There are lots of options and opticians choose the type of setting that fits them best.
The characteristics of an Indiana optician include reliability and the ability to interact with people. Physicians often count on opticians to create a pleasant experience for customers. There is also a need for detail as Indiana opticians must be very precise.
Licensed Optician Requirements
Opticians in the state of Indiana are not burdened with the chore of obtaining a license. Many other states have formed opticianry license boards that oversee the licensing of opticians within their respective states. Without a state board in place, Indiana opticians do not have to spend any time immersed in the process of obtaining a license. This is one more perk that makes becoming an Indiana optician a very appealing option.
Optician School and Certification Requirements in Indiana
The state of Indiana does not require optician licenses, although it is strongly recommended that opticians earn some kind of certification. There are a variety of institutes that offer training programs and there are also online training programs. These programs include written examinations as well as hands-on training. Becoming familiar with an optical lab and optical store is also included on the way to earning a certification.
Through the certification process, opticians become well-versed in a variety of important areas that are specific to this particular line of work. Ophthalmic theories, anatomy of the eye, ocular physiology and contact lens technology are just a few of the subject areas that are covered. Colleges teach the same principles and many provide an Associate's Degree in Ophthalmic Dispensing, which qualifies graduating students to begin a career as an optician. This degree typically takes two years to achieve while certification programs last approximately 12 months on average.
Certifications are also offered by the American Board of Opticianry (ABO), which is a nationally-recognized association. While this certification is not mandatory, it can add to an optician's resume and improve the chances of obtaining employment.
Optician Education and School Requirements
The educational requirements to become an optician in Indiana do not include a high school diploma or GED equivalency, although either one of those are strongly recommended. Much of the coursework will call for the basic skills that are attained through the completion of a high school curriculum or a GED program. It is also recommended that candidates possess some kind of people skills as customer service is an integral part of the job.
Optician Salary in Indiana
The average salary for an optician in Indiana is $33,000 annually. Higher paying optician jobs are available within the state and they are often available based on experience and location. The job prospects are soaring for opticians in Indiana, with the increase expected to reach 26% over the next ten years. That type of increase can also affect average salaries. The high demand could translate into higher pay across the entire state.
Resources
Optician Job Openings in Indiana
Check out the multitude of job listings for opticians in Indiana as this website specializes in advertising employment for opticians.
Optician Businesses in Indiana
Look through all of the businesses that employ opticians throughout the state of Indiana on this website.
Job Opportunities for Opticians in Indiana
Apply online to one of the many job listings for opticians provided here.
The ABO offers certifications for opticians looking to enhance their credentials and its website provides detailed information on that process.