Schools offering opticianry training in Maine prepare students for an entry-level position in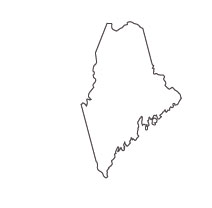 the field. However, many opticians in Maine acquire their skills by completing an apprenticeship with a licensed optician. As an optician in Maine, your goal will be to ensure that your customers enjoy the best eyesight possible. This will involve preparing prescriptions written by optometrists or ophthalmologists, and fitting customers with the appropriate eyewear. Your job will also involve using specialized instruments to diagnose the state of customers' eyes. Besides clinical procedures, opticians also perform modest business duties such as sales and office management. The steps outlined below will help you to prepare for a career as an optician in Maine.
Sponsored Listings
]
Featured Programs:

In our online Optician Training courses, you'll develop the foundational knowledge and hands-on skills to work as an optician in an optometrist office, retail optical business, or eye clinic. You'll cover fundamental topics to help you assist patients in selecting and fitting eye wear, and eye care in general. You'll also prepare to sit for industry certification exams
Selected Campus Locations:
Selected Programs:

Optician Education Requirements in Maine
Most opticians in Maine have a high school diploma or equivalent, as well as opticianry skills acquired through on-the-job training. However, some opticians undergo formal training for the field by taking postsecondary education programs. Training for the field is offered by various vocational schools and some community colleges. Vocational schools offer one-year certificate programs, while community colleges offer two-year associate's degree programs. Students receive classroom instruction as well as clinical practice. The coursework covers areas such as theory in optics, physiology of the eyes, diagnosis of the eyes, and business management. Through the clinical component, students build practical skills on diagnosing customers' eyes and fitting eyewear. Some schools in Maine offer long-distance programs in opticianry. Whatever option you consider in training to become an optician in Maine, be sure to select a school that is recognized by the American Optometric Association Council on Optometric Education. Completing optician training from an accredited school is a requirement, when applying for license to practice in Maine.
Optician School and Certification Requirements
Maine is amongst the US states without certification requirements for opticians. The state allows employers to set standards regarding what to expect from opticians. This is why seeking voluntary certification is a good idea. Nationally recognized certifications are offered by the American Board of Opticianry (ABO) and National Contact Lens Examiners (NCLE). Earning the ABO and NCLE credentials will significantly improve your job prospects. ABO and NCLE credentials also enhance career mobility.
Licensed Optician Requirements in Maine
The Maine State Board of Optometry regulates the practicing of optometry in Maine. To be granted license for practicing in Maine, you need to take an exam administered by the board, and achieve a pass score. Candidates for licensure can apply to take the exam at any of the four appointed dates each year ─ in February, May, August, and November. Applicants for licensure must also submit their scores from the National Board of Examiners in Optometry (NBEO). A pass score is required for each of the three sections of the NBEO exam.
Optician School and Continuing Education
Opticians in Maine who hold the ABO and NCLE credentials need to apply for recertification every three years. Meeting this requirement involves completing a specified number of continuing education credits. In addition, practicing opticians in Maine must renew their licensing each calendar year. The Maine State Board of Optometry has a continuing education requirement to ensure that opticians keep their skills and knowledge current. This involves completing 25 hours of approved continuing education each calendar year in order to renew licensure.
Optician Salary in Maine
A much faster than average employment growth is predicted for opticians in Maine, 2014 to 2024. An increasingly aging population is expected to contribute to increased demand for eye care services. The median annual salary for opticians in Maine is about $33,000. Opticians in the low earning category draw about $21,000, while top earners draw as much as $53,000. Earnings are typically shaped by the level of education, professional experience and location. Opticians working in large cities, such as Portland, Lewiston and Bangor, earn much higher salaries than those based in smaller towns. In addition, opticians who hold the ABO and NCLE credentials attract higher salaries.
Resources for Opticians
American Board of Opticianry (ABO) and National Contact Lens Examiners (NCLE)
Commission on Opticianry Accreditation